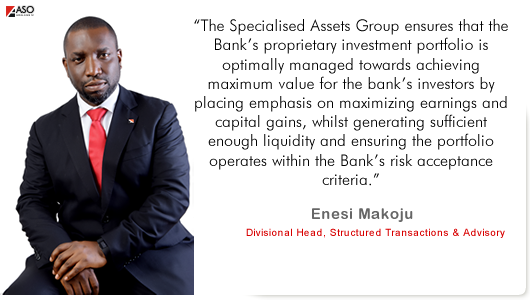 Enesi Makoju graduated from the University of Ilorin with a degree in Economics in 1995, obtained an MBA from the Nottingham University Business School (U.K) in 2002 and an M Sc. in Major Program Management from University of Oxford - Said Business School (U.K.) in 2012. Enesi also possesses a Prince2 UK (2006) Project Management Practitioner Certificate.
In the past 2 decades, Enesi has obtained diverse work experience in the financial services sector, with his core areas of competence including private equity fund management, project finance and real estate / construction finance.
Prior to joining ASO, Enesi was with FBN Capital Limited, the investment banking arm of FBN Holdings for over 11 years, where as an Associate Director with oversight responsibility for the Alternative Investments division he played a lead role in the management of FBN Holdings Group's private equity business comprising of over US $100 million worth of investments in well over 20 different companies operating within various strategic sectors of the Nigerian economy.
Before joining FBN Capital, Enesi had gained significant and diverse finance based experience having been employed in various world class financial institutions such as Arthur Andersen (Now KPMG Nigeria) where he worked in the Tax and Business Advisory Group and Citibank where he worked in the Risk Management Group.