Real Estate Investment Banking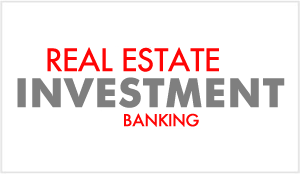 For enquiries on Real Estate Investment, please call our Customer Contact Desk on:
07041631121

092911825

07028953546

092911983
Click to expand/collapse
Product Offerings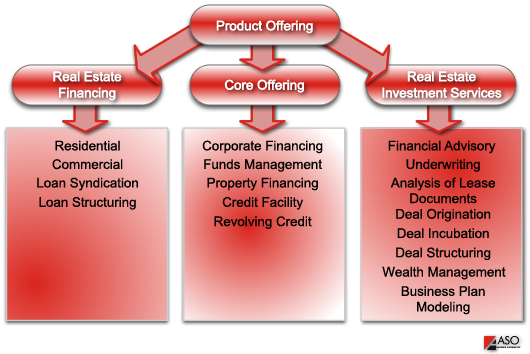 Project Funding Process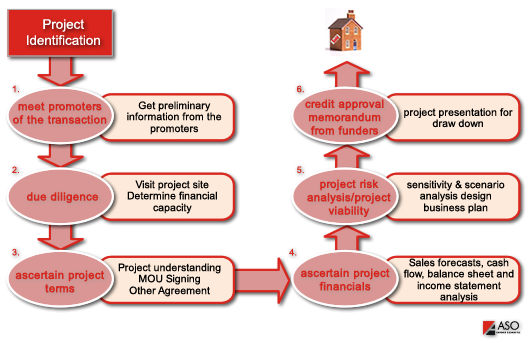 ASO Real Estate Investment Banking team focuses on Real Estate Investment and Financial Advisory Services. We source funding for project promoters to meet their funding requirements. By so doing we intermediate, incubate, syndicate and manage portfolio of funds. We also offer financial advisory services on real estate projects and carry out thorough due diligence in order to optimize returns on investment.
Our Product Offerings
Residential and Commercial Real Estate Finance
The fact that real estate business will continue to be lucrative in Africa cannot be over-emphasized, especially in Nigeria where population spurn daily and the quest for affordable houses is increasing, making housing demand outstrip its supply. For big ticket projects such as mass housing for the low income earners, we source offshore construction loans, giving room for affordability for project promoter(s) in terms of loan repayment and also a soft repayment on mortgages for the mortgagors.
Loan Syndication and Structuring
Considering the instability in the financial global market coupled with the possibility of a recurrent global economic turn down, we match "local funds" with "projects" to create liquidity in terms of earnings for the group and the bank at large. In this model we have an extensive project pipeline and match them with investor funds based on agreed return on investment.
Financial Advisory (Commercial and Residential Real Estate)
As a group, we see real estate investment as a sensitive investment decision and we go the extra mile at ensuring we guide project promoters/clients on their investment strategies by analysing their project financials, putting accompanied investment risk into consideration and ensuring our clients make the right real estate investment decision.
Integrated Financing
Today, real estate banks are no longer only creditors. In the last few years, in order to offer investors optimal financing in every instance, most classical mortgage banks developed into integrated financial service providers which combine real estate markets with capital markets know-how. Large investors operate globally - this means for us as a group that today, as a rule, bringing to the market large volume credit for commercial real estate, as structured financing. Then we spread the financing contributions out in various tranches – in Mezzanine loans.
Buy and Sell Model (Commercial and Residential)
As real estate business evolve, we are mindful of its appreciation rate and pedantically invest from pool of our portfolios by way of purchase of high yielding return residential estates backed with off takings.
Build and Sell Model (Commercial and Residential)
The build-then-sell concept we operate is essentially a 20:30:30:20 model whereby the house purchaser float a structured payment. 20% of the purchase price first and then pay the remaining in 30%, 30% and 20% of the purchase price upon the completion of the house with certificate of fitness issued. We float this model through our pool of funder(s) upon complete due diligence.
Sell and Build Model (Commercial and Residential)
The conventional sell-then-build require the purchaser to pay 20% of the purchase price upon the signing of the sale & purchase agreement and the remaining 80% is progressively paid to the developer in accordance with term of payment according to stages of construction as stipulated in the sale & purchase agreement. The house purchaser can pay the developer by cash or bank loan. In essence, in the sell-then-build, the house buyer part finance the developer in the construction of the project and we basically syndicate loan on behalf of individual purchasers via the bank's pool or through our established strategic alliance with funding partners.
Other services are:
Deal Underwriting and Structuring

Analysis of Lease Documents

Business Plan Modeling